Product design, ui/ux, 2021
Rakuten mobile cart: Simplify the ecommerce experience
Rakuten is an ecommerce marketplace based in Paris, France mostly selling high-tech and cultural items from professionnal or private sellers. When joining the platform fidelity club "Club R" users can get attractive cashback and other advantages depending on their purchase. Our concerns were that there was a lot of exits on the mobile cart page and the number of users buying without subscribing to the fidelity club was too high.
The Context
Rakuten's mobile cart is an essential step in users experience. It is not only a place to keep items before paiement, it is also for users a page to compare and remember - strongly linked to the Wishlist feature.

The platform counts more than 10 millions members. It provides us loads of data but also a large diversity of user profiles. Working with data analyst and product owners made me able to create real life personae based on real numbers:
New customers & members discovering the platform
C2C customers purchasing "seconde main" items
Best Deals lovers looking for lowest prices
Historic members willing to have the simpliest experience and best cashback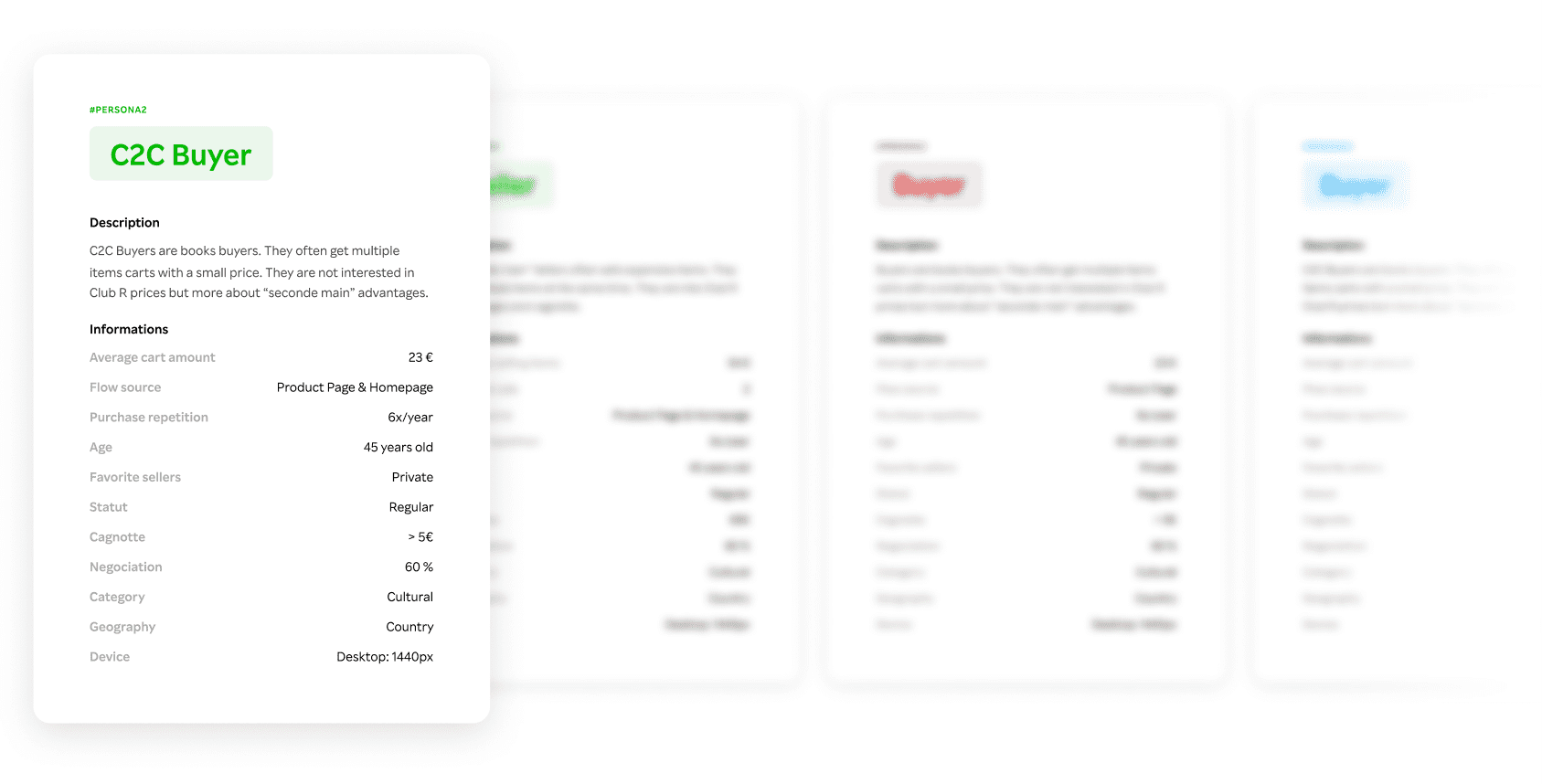 My role
My role on this project was to look for User Experience problems on the current service (ui, ux, technical bugs, flows) and define an action plan with the Product Owner. As a Product Designer, I conducted user tests to analyse user behaviors and suggest best practices with smooth interfaces. I organised user research exercices to validate interfaces. My role was also to defined batches & MVP with PO and stakeholders.
Main Problems
Analysing the existant tool and understanding its architecture helped me define problems and find solutions. Studying flows and our product analytics, I noticed few problems according to our users behaviors: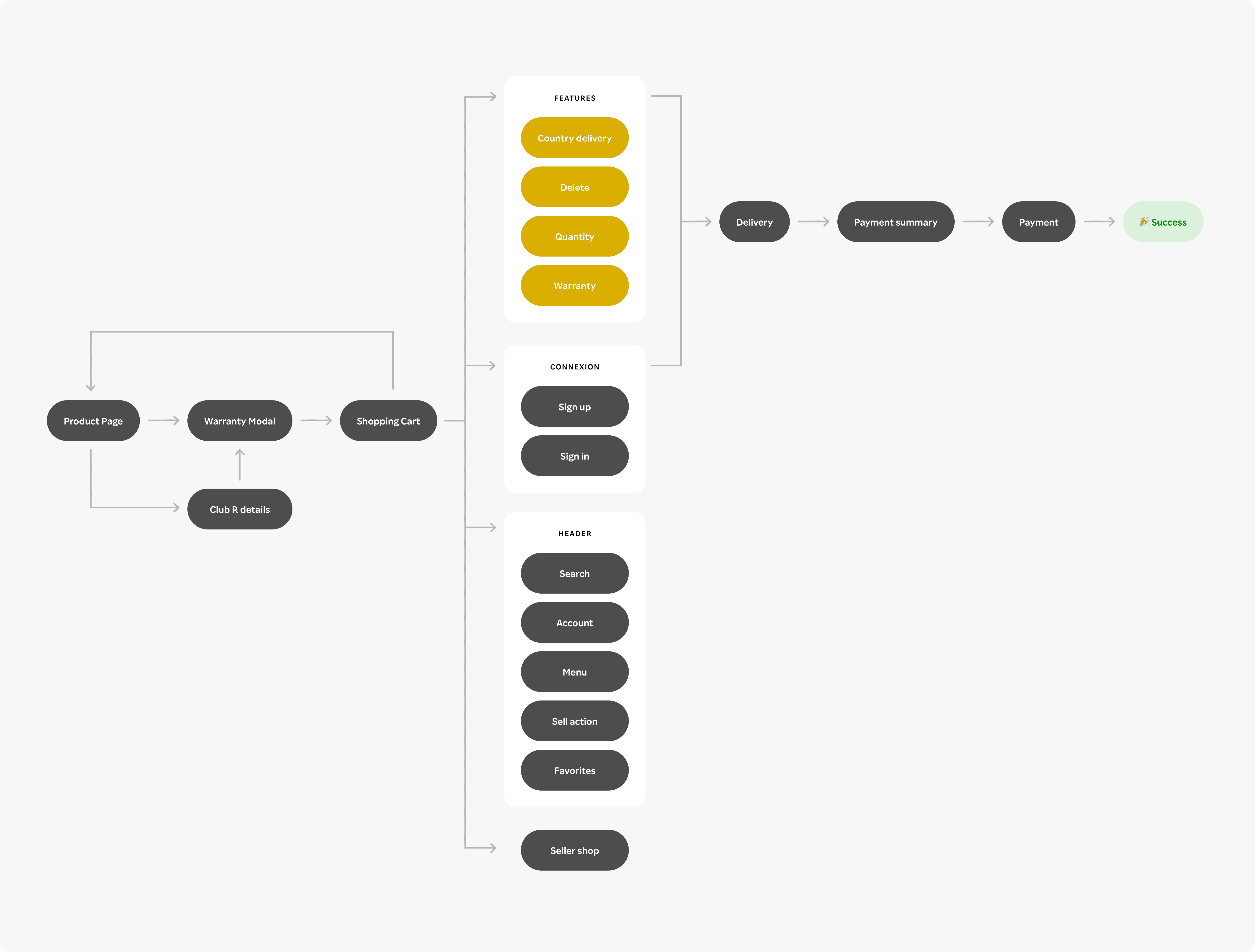 User Interface: Overall clumsy user interfaces not following our component guidelines & Design System
Interactions: No feedback that the right item was successfuly added to the cart from the right seller with the right options. This problem can force users to double check their product in their cart thus creating a poor experience. No quantity feature
Information: No overview of delivery fees and dates on the cart. There is no information about secure payments. Fidelity Club isn't attractive and doesn't showcase advantages
Aesthetics: The lack of information hierarchy created a cognitive overload.
Feedbacks: Bad management of user feedbacks (from deals to delivery information) that all look like errors notifications without any guidance.
To sum things up, UI problems, bad robustness, user frustrations, bad information hierarchy lead to defective experience.

Recommendations
Design recommendations were to follow the Design System to update components, define priority on informations displayed, suggest more products and put forward the Club R advantages.
Improve overall navigation, modernize interfaces, create trust and show the plaform strength: the fidelity Club.
The Solution
Here is the overall solution from the add-to-cart action to the payment step. The new add-to-cart step allows to simplify information about warranty and create reassurance. It also suggests items that users may like. The mobile cart creates transparency around product, seller and delivery information. It also puts forward the Club R advantages.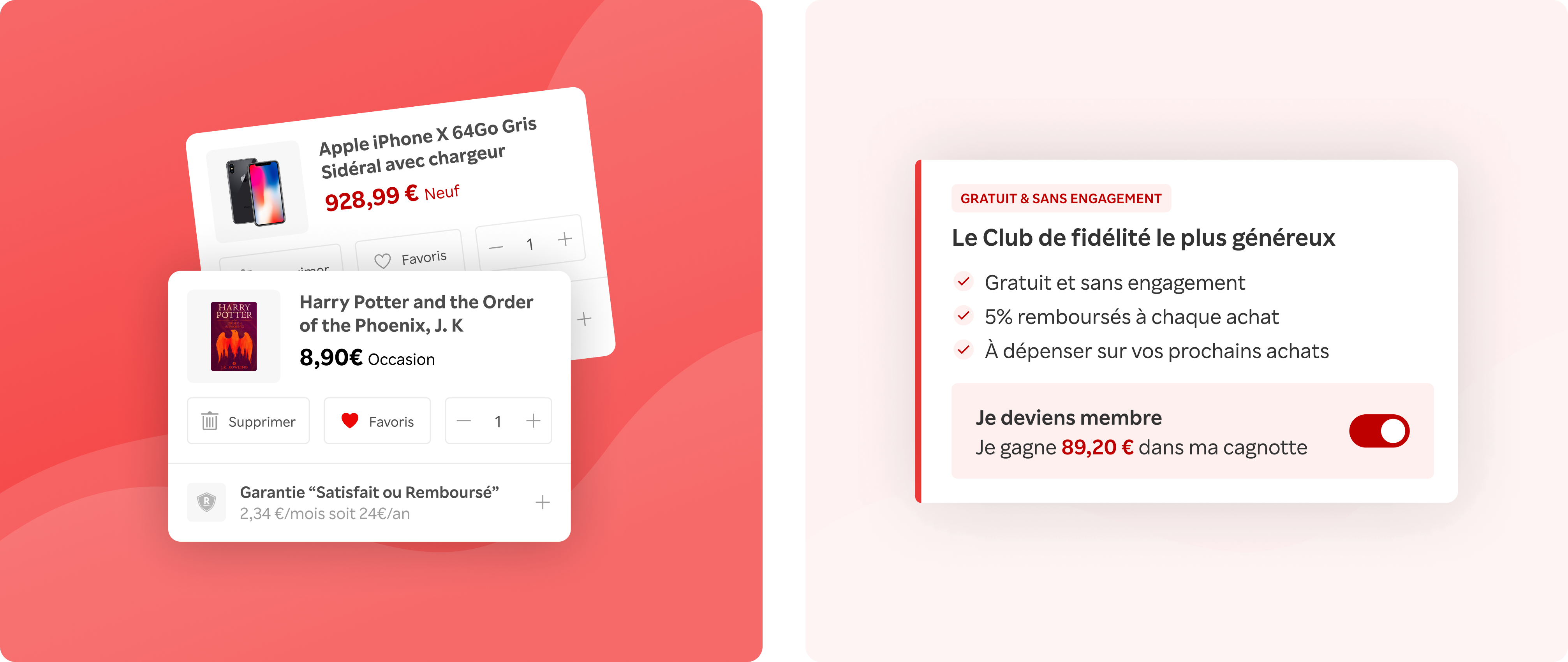 The process
User Testings
I conducted short user testings to get qualitative information & personal opinions about the old mobile cart. I established hypothesis and pain points to test on different realistic users. I created two types of test: "Guided" tests & "Free" Tests :
Guided tests have precise instructions about what users have to do such as: "Search 'iphone 12' in the search aera", "Add the product to your cart and accept the 12-month warranty". Strict instructions allowed me to test information architecture and visual choices.
Free tests have simple instructions: "Buy a book on Rakuten". This layout allows users to explore freely. "Free" tests made me discover new flow accesses, unconventional user behaviors and bugs.
Both tests were conducted with two differents items: a book (cultural item that is often not expensive), and a smartphone (expensive high-tech item). It allowed me to compare behaviors depending on item categories and prices.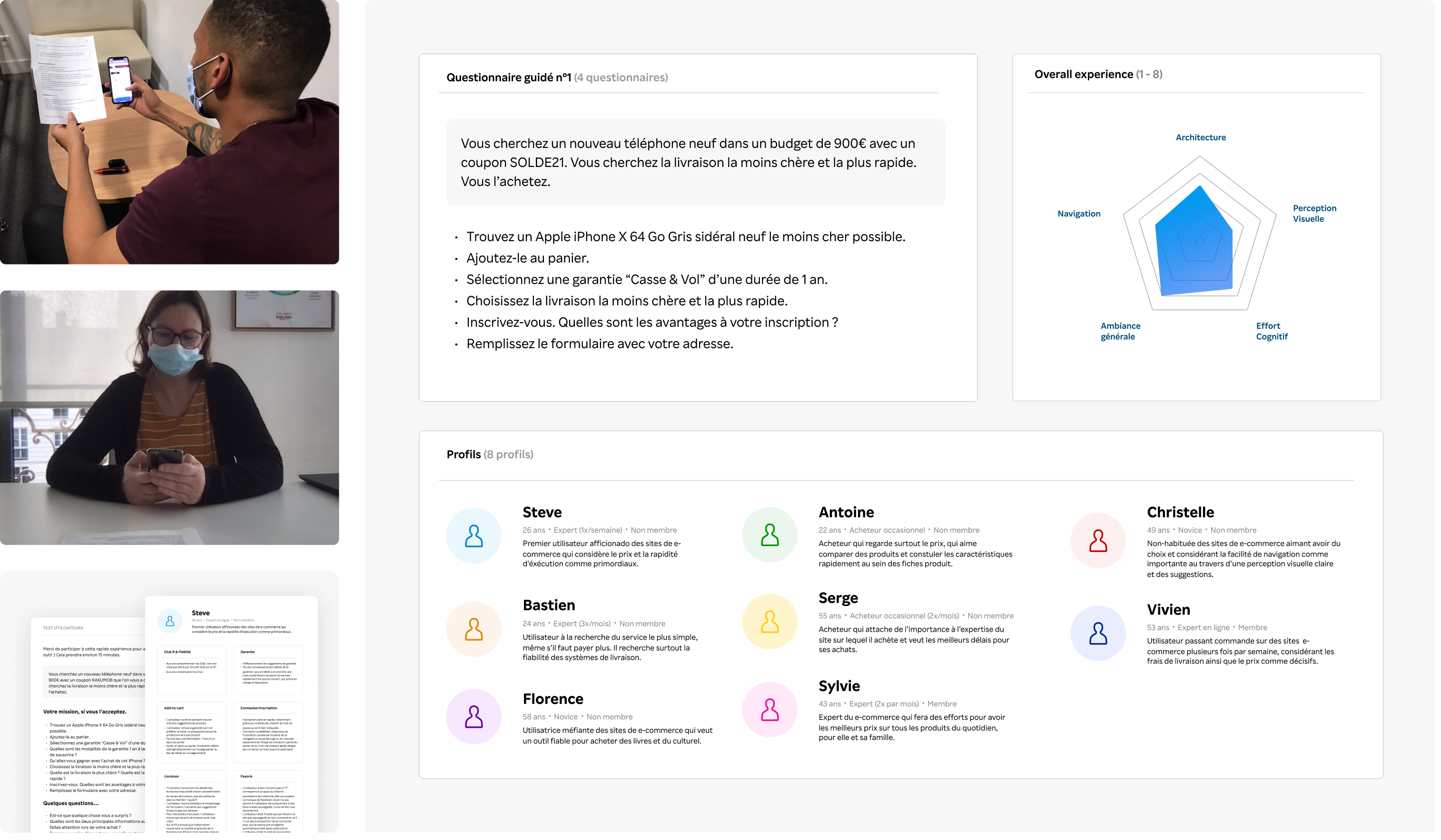 Overall, feedbacks helped me validate my audit and understand that:
Overall navigation is frustrating
Club advantages & warranties are not understood and create mistrust
Favorite feature has become an habit on e-commerce websites & should follow usual interactions
Benchmark
By studying other existing services I was able to determind actual (not always best) pratices for general cart experiences, steppers, product cards, coupons features and fees informations.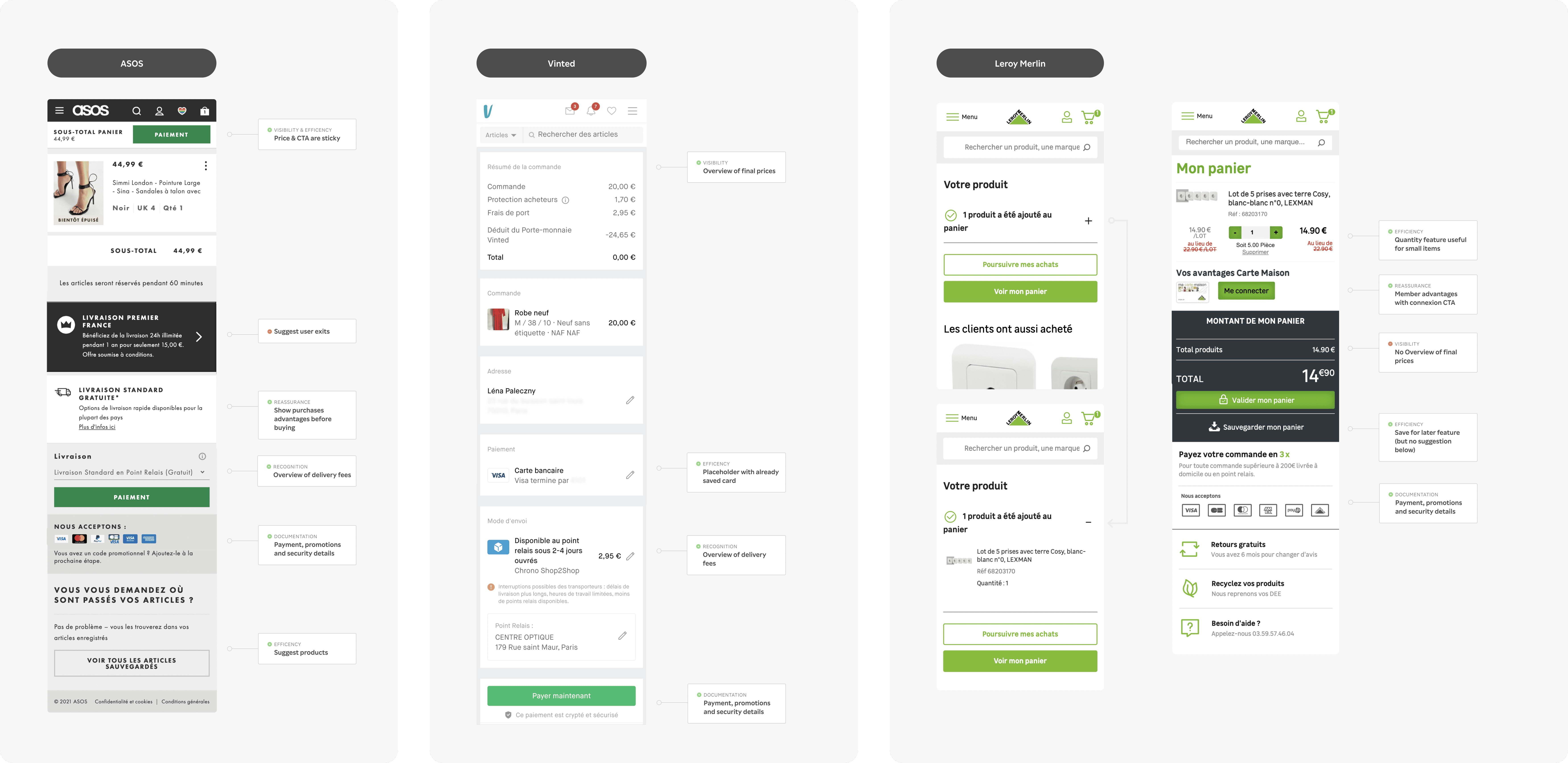 Creative tryouts
I started by brainstorming and creating quick solutions to share to the team. I tested my flows to get early feedbacks and improve the experience. I mainly used already existing components.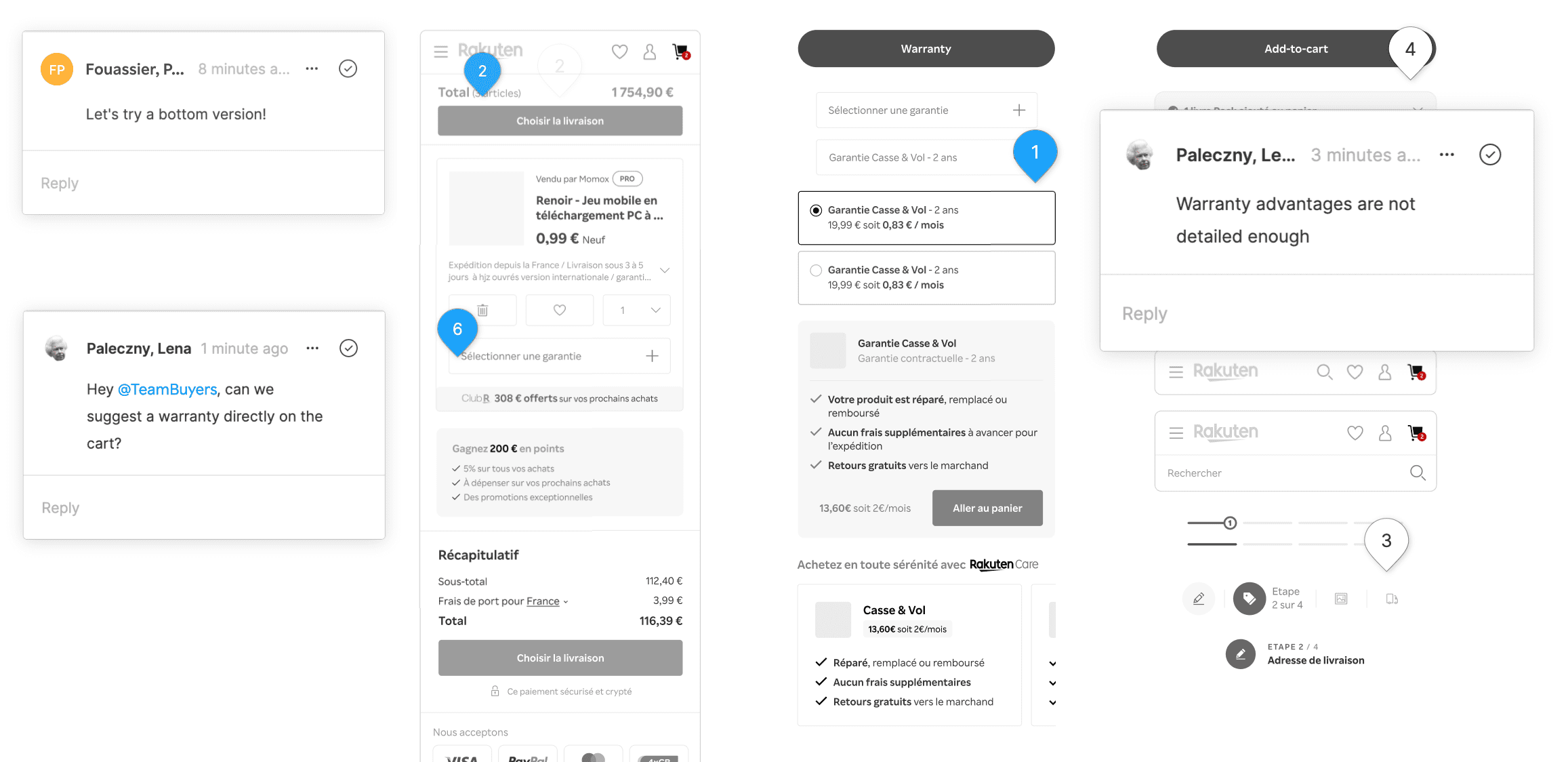 Prototyping
Using Design System components, I designed the new version of the mobile cart experience with:
an add-to-cart modal: it allows to give a success feedback to users that their item have been well added to their cart. It also gives users the possibility to be directly redirected to their cart if they have finished their shopping. Finally it is an opportunity to suggest other products or warranty that they might like.
a simple cart with new product cards that can be toggled on to show more information, a Club R section to showcase advantages and explain clearly the reward, cross-sell carousels with related products and security informations displayed below.
warranty modal displaying any kind of warranty that could be interesting depending on the product with details of terms of use.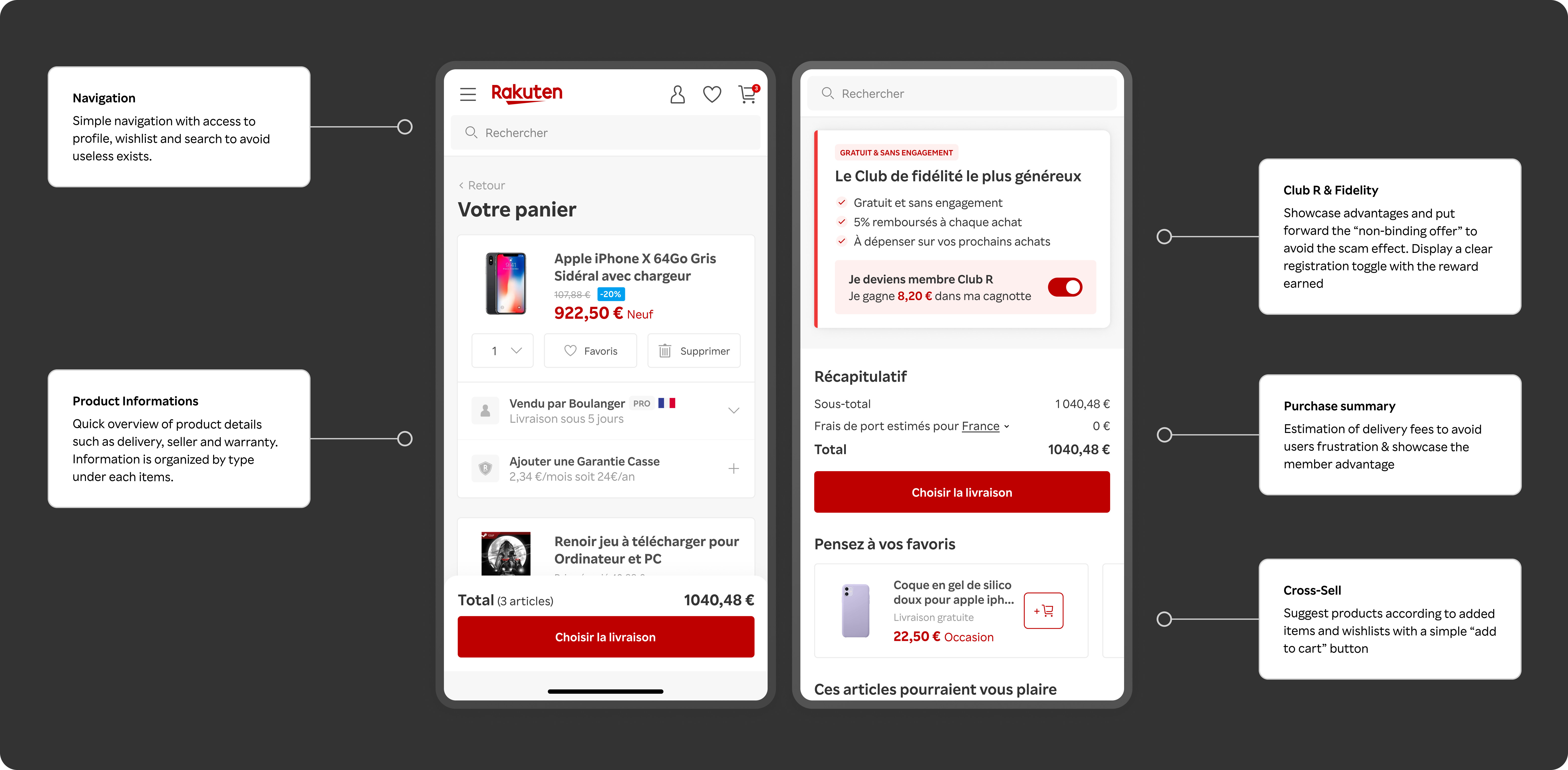 Usability Tests
Using Maze tool I tested the prototype on users to see if the new experience was effective. The instruction was to buy a specific item. My main concerns were about the amount of information displayed on the cart. I asked if:
delivery information was enough to make testers continue their paiement
this experience convinced them to subscribe to the Club R
they felt like sellers were reliable
warranty were simple to add

Results were quite good. It confirmed the necessity to conduct user tests before the project to get the best user behavior analysis possible. Sharing it with all the Rakuten teams allowed me to anticipate next features and create space for it.

Feedbacks helped me realize it was necessary to have a look around the Club R wording. My next step is to design different Club R toggles to fit new members goals but also expert.
Conclusion
This solution will be produced until we iterate and make a better version again. Next iterations will be about delivery options (with more and more partners) and payments details. The whole flow will have to be reviewed after every new feature release.

This project allowed me to develop my UX skills by doing user tests and communicate with a lot of differents stakeholders. It was also a good opportunity for me to demonstrate how important it is to test on users and get enough feedbacks to build a strong project.